Seattle Times story on US FilVets Family Reunification Parole Visas Launch June 9, 2016
"Maraming salamat,
President Obama"

WASHINGTON, DC (May 10, 2016) The officers and members of the American Coalition for Filipino Veterans, a Washington-based advocacy organization, extended their deepest appreciation and thanks to President Barack Obama for ordering and finalizing the parole visa family reunification program for the sons and daughters of Filipino American WWII veterans.

They were deeply grateful to their champions in the United States congress. They were led by Sen. Mazie Hirono (D-HI), Sen. Harry Reid (D-NV), Sen. Dean Heller (R-NV), Sen. Richard Schumer (D-IL), Sen. Chuck Schumer (D-NY) and others, in the senate, Rep. Judy Chu (D-CA), Rep. Mike Honda (D-CA) and many others in the House of Representatives.

The veterans also thanked their tireless Asian American immigrant advocates: AAJC, NaFFAA and allies for their kind-hearted and dedicated lobbying for the Filipino elderly heroes, their widows and children

The veterans and coalition supporters were also glad that the US Citizenship Immigration Service (USCIS) had published on Monday May 9th, the regulations and details of the "Filipino World War II Veterans Parole" (FWVP) policy. For background details, guides and and application forms, visit:

www.uscis.gov/FWVP

According to USCIS, granting the FWVP parole visa will be made on a "case-by-case" discretionary basis "to provide support and care for elderly veterans or their surviving spouses" for "urgent humanitarian concerns."

The ACFV coalition urged eligible veteran's sons and daughters with approved Form I-130 immigration petitions - and their legal representatives- to study carefully the four-page FWVP regulation and to provide the necessary documentation and forms to apply for the parole visas when the program goes into effect on or after June 8, 2016.

The ACFV coalition also praised the USCIS FWVP policy for including surviving widows of Filipino WWII veterans who were original petitioners and - more importantly self-application by the petitioned adult child is if both parents are deceased.

See VIDEO:
http://www.balitangamerica.tv/obama-announces-help-for-filvets-at-gala-for-asian-americans/

# # # #
Eric LACHICA, executive director & son of a vet
American Coalition for Filipino Veterans, Inc. 867 No. Madison St. Arlington VA 22205
Leaders: Franco Arcebal, 92, Los Angeles CA, ACFV president (acting), Art Caleda, 92, Honolulu, HI, Celestino Almeda, 98, of Gaithersburg MD, Rafael De Peralta, 94, New York NY, Patrick Ganio Sr., 96, & Dick Aquino Jacksonville FL, Regino Nacua, 87, & Rudy Asercion, San Francisco CA, Rudy Panaglima, 87, Arlington VA leader, Ms. Bernie Ganon, Los Angeles CA, Bert Andrade, San Diego CA & Ernesto Anolin, Bakersfield CA, Ms. Sarah Gonzalez, San Jose CA, Senen Fontanilla, Cherry Hill NJ, Linda Mayo, Jersey City NJ, Sonny Sampayan, New York NY, Conrado Rigor, Seattle, and many others

-------------------------------------------------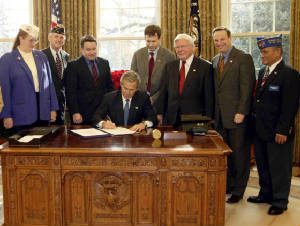 Bush signs H.R. 2297 into law, witnessed by Guillermo Rumingan, 2003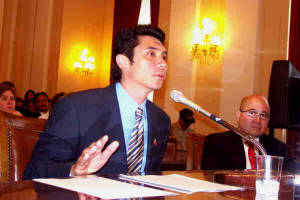 Actor Lou Diamond Phillips testifies in 2002
San Francisco weekly (fair use EXCERPTS)
www.philippinenews.com


After 61 years, 'full veterans status' close

Jennie L. Ilustre and Jun Ilagan,
July 04, 2007

WASHINGTON D.C. - After 61 years, an omnibus bill with provisions granting "full veterans status" to some 5,000 Filipino World War II veterans in the U.S., and about 12,000 in the Philippines, is headed for a floor vote in the Senate.

On June 27 Wednesday, the Senate committee on veterans affairs, chaired by Senator Daniel K. Akaka (D-HI), approved S. 1315, Veterans Benefits and Emoluments Act. Akaka had incorporated the provisions on the omnibus bill, which is assured of passage.

A similar mark-up of major legislation, including a Filipino veterans sister bill, is expected in the House. Voting on the omnibus bill could take place anytime before the 110th U.S. Congress adjourns in December.

Among other things, the Senate provisions would correct the injustice resulting from the Rescission Act of 1946, which stopped the pension and other benefits for veterans with nonservice-connected, or not combat-related, disability.

The provisions include proposed monthly pension of $911 for U.S.-based veterans, and $300 for those residing in the Philippines - without them being subject to an (economic) "means" test, or disqualification if they are well off.

The figures are still subject to negotiations, the reason community leaders continue to urge Filipino Americans across the nation "to call their senators and congressmen."

Filipinos fought under the U.S. flag during WWII under the military order issued by President Franklin D. Roosevelt when the Philippines was a U.S. territory. "Our country owes a debt of gratitude to the Filipino veterans and this measure will get them the benefits they deserve," said Akaka. The benefits would also apply to veterans' spouse and dependents.

He added: "I thank my colleague Senator Inouye for his tireless work over many years on behalf of these brave veterans who did their duty and fought proudly alongside and under the command of American forces, but then were denied their benefits promised by the same government they fought to defend."

Akaka is co-author, with Senator Daniel K. Inouye (D-Hawaii), of the bill that was incorporated as provisions. The two, who are both WWII veterans, are also co-sponsors of all Filipino veterans' health care and burial benefits bills for non-service veterans, and also adjusted benefits for service-connected veterans, that have become laws since the 1990s.

Inouye pointed out: "What happened 61 years ago was not right; it was shameful and disgraceful. That is why for 16 years I have been persistent in my efforts to secure passage of the Filipino veterans equity provisions. The legislation is about fairness and dignity-core American values. It is also about correcting an injustice that has stood for way too long."

Disability compensation

One of the omnibus bill's provisions would grant full-rate disability compensation for those with service-connected injury or ailment, whether they live in the U.S. or in the Philippines. If the bill passes, this would be a huge victory.

Currently, service-connected veterans get the half-rate when they retire to the Philippines.

Under this bill, Filipino WWII veterans residing in the U.S. with nonservice disability would receive $911 in monthly pension. The bill seeks to grant Philippine-based veterans $300 monthly pension if single. The spouse of the married veteran gets an additional $75 a month.

The pension amounts could go down, as both the House and Senate supporters of the veterans-related bills engage in negotiations with other lawmakers and the U.S. Veterans Affairs.

Senator Inouye issued a statement Wednesday saying the provisions would:

Restore full veterans status to Filipino veterans of World War II who lost this status under the Rescission Acts of 1946;

Pay Filipino veterans of World War II who suffer from disabilities incurred or aggravated by military service with service-connected compensation at the full rate, regardless of where they live;

Permit Filipino veterans of World War II and survivors residing in the United States to receive pensions and death pensions paid at the same rate and under the same conditions as U.S. veterans;

Provide Filipino veterans of World War II residing outside of the United States a special pension and death pension paid at a lower flat rate which does not require documentation of income, assets, and medical expenses."

Philippine pension

The proposed monthly pension for Philippine-based veterans would be in addition to the 5,000 peso-pension they get from the Philippine Veterans Affairs Office (PVAO).

Senator Larry Craig (R-Idaho), ranking member of the Senate veterans affairs committee, was concerned the Philippine government would scrap the PVAO pension once the U.S. approves pension for the Filipino WWII veterans.

Philippine Senator Dick Gordon, who met with Senators Akaka and Inouye and other legislators last week, on learning about the mark-up good news, said in a phone interview he would introduce an amendment to this effect as soon as the Philippine Congress reconvenes on July 23.

"I would like to reassure the U.S. government that they are not alone in providing benefits to our veterans," he said, adding the Philippines is committed to honoring its veterans.

Craig assured veterans' supporters that "I want to help the veterans." But he opposed a big pension for veterans in the Philippines, citing its lower cost of living in contrast with those living in the U.S. and the need to rein in the deficit. Last Wednesday, he proposed a $100 monthly pension, which was defeated by an 8-6 vote.

Among those who voted against it was very sleepy Senator Barack Obama (D-IL), whose support community leaders successfully obtained fairly recently. Obama sat near Akaka, who was presiding at the mark-up.

The 2008 presidential hopeful, clearly exhausted from his schedule, rested his chin on his right hand, his eyes closed. He and another Philippine ally, Senator Jim Webb (D-VA), headed for the exit after voting.

Ambassador Willy C. Gaa said he met with Craig after he testified in Congress last April and found him accessible. He expressed appreciation for Akaka and Inouye for sponsoring the bill, and for Obama and Webb, and also community and veterans leaders.

"For the first time ever in history, the important contribution of Filipino veterans of the last World War is now being officially recognized, " he said, adding that correcting the 61-year injustice was "a very important part of the foreign policy agenda of the Arroyo administration."

More lobbying

Eric Lachica, executive director of the American Coalition for Filipino Veterans based here, thanked lawmakers for "the huge victory for our veterans."

But he pointed out: "Although the provisions are incorporated on a bill assured of passage in the 110th U.S. Congress, there's a slim chance that during voting Senator Craig or other Republicans might introduce amendments to the veterans provisions, particularly on the pension appropriations."

"We have never gotten this far before, and now everything is moving fast," said Irene Bueno of the National Filipino Veterans for Equity (NAFVE) based in this U.S. capital. "It's possible that when the omnibus bill goes to the Senate floor that there would be no actual voting. It could be approval by unanimous consent."

But she cautioned, "We need to do more, and get everybody involved in calling their senators and congressmen." From California, NAFVE Co-Chair Lillian Galedo, agreed, saying, "Our work is far from over."

NAFVE Co-Chair Jon Melegrito said in this capital, "We are pushing for full equity.As passed by the Senate Veterans Affairs Committee, S. 1315 falls short of treating all the Filipino veterans equally as the U.S. veterans with whom they stood shoulder to shoulder on the field of battle."

Retired Sgt. 1st Class Guillermo O. Rumingan of Arlington, Virginia, came with his wife Febe at last Wednesday's mark-up. "All these years, for us this was really a fight for our dignity and honor," he said. "The Rescission Act of 1946 deemed our service not as military service, in effect saying we did not fight in the war. What were we supposed to tell our grandchildren? But now, we can hold our head high."

"I'm so happy over the news," said retired Maj. Alberto C. Bacani, who's 96. Other veterans who came were: Patrick Ganio, 86, of Florida; New York-New Jersey area's Elpidio Ramos, 85, Mario Lumida, 83, Pedro Navida, 80 who came with wife Leonor, and Pacifico Timbol, 85 and Jack Tejada, 84, of this capital city.

In San Francisco, community leaders and veterans advocates received the news with cautious optimism and warned against complacency.

"We cannot be complacent yet. From the Senate, we have to make sure that the House moves forward with this bill and finally enact it into law," said Rudy Asercion of the War Memorial Commission.

He further said, "We still need to call our senators and congressmen and ask them to fully support the Act. What I want to emphasize is that the success we are now achieving is the result of the collaborative effort of everyone working on behalf of our Filipino veterans, whether they are based on the East Coast or West Coast."

Asercion echoes the position taken by Retired Major General Antonio Taguba of "taking whatever comes our way for now and just work for an additional amount."

"Overall, the greatest victory is that we have finally gotten the U.S. government - and, in effect, the American nation - to acknowledge the role and contribution of Filipino veterans to this country. We have earned the respect and gratitude of a nation and, therefore, the amounts involved are a secondary consideration," he stressed.
... EXCERPT
----------------------------
Los Angeles BALITA weekly (fair use)
http://www.balita.com
US Fil-Vets ask candidates for bill support
February 5, 2008
By Albert Bataclan, Balita News Service
LOS ANGELES - Statements of support from the presidential candidates are being
requested from Filipino American veterans and the American Coalition for Filipino Veterans, Inc. (ACFV) before Feb. 18 to help pass their benefits bills and garner more community allies for the Bataan Day commemoration rallies being planned across the U.S.
"We are asking the presidential candidates to release their statements of support for our cause clearly before February 18, the day of the Rescission Act of 1946," said Eric Lachica, Executive Director of the American Coalition for Filipino Veterans, Inc. in an exclusive interview with BALITA.

"We have been, and will continue to the rounds here in Washington D.C. to get the candidates' commitment."

The Rescission Act of 1946 was passed by the Congress and signed into law by President Truman on Feb. 18, 1946. It states that the service of Filipinos during WWII "shall not be deemed to be or to have been service in the
military or national forces of the United States or any component thereof or any law of the United States conferring rights, privileges or benefits."

And it is on Feb. 18 of this year that the group intends to rally up support, Lachica said.

"We are gearing up for the Bataan Day action and we are using the anniversary of the February 18 of the Rescission Act to mobilize our team in Capitol Hill and there, in Los Angeles, to lobby for both bills to be voted on as soon as possible," he said. "We are asking other Filipino American organizations like doctors, nurses and lawyers in all states to help, on a voluntary basis, and walk to their congressional representative's local offices on April 9 and ask to speak with them and their staff so we can have full impact."

According to Lachica, both Hilary Clinton and Barack Obama of the Democratic Party have co-sponsored the Family Reunification Bill, which aims to grant visas for the veterans' immediate family members and the Equity Bill which will increase their monthly monetary compensations. Only John McCain of the Republican Party has granted preliminary support for the Reunification Bill
but not on the Equity Bill.

"I do not understand why Congress cannot grant the benefits taken away from us since they know that we served in the U.S. Armed Forces gallantly and loyally," said Franco Arcebal, the coalition's spokesperson in Los Angeles.

"All we ask is for (Congress) to grant us these minimal benefits before we all die. We need the help of both political parties to pass both bills to help us and our families."

The Family Reunification Bill and the Equity Bill

On Jan. 24, Eric Lachica and the Justice for Filipino American Veterans L.A. Chapter hosted a forum at the Search to Involve Pilipino American's (SIPA) Temple Gateway Youth & Community Center to educate the community about the two bills that they are fighting to get bi-partisan support for.

The S. 671:Filipino Veterans Family Reunification Act was reintroduced in Congress on Feb 16, 2007 by Sen. Daniel Akaka (D-HI) to amend the Immigration and Nationality Act and exempt sons and daughters of Filipino World War II veterans from worldwide or numerical limitations on immigrant visas.

Lachica said that the bill aims to grant 20,000 priority immigrant visas nationwide for the children and grandchildren of Filipino veterans under the age of 21 in 2008. California veterans will be granted 12,000 visas for the families in the U.S. and the in Philippines.

The H.R. 760:Filipino Veterans Equity Act will help Filipino veterans who served during World War II and modify a range of other benefits for eligible veterans. Lachica said the passing of this bill would raise the current
pension of Filipino California veterans from $856 to $911 a month, equal to what their American counterparts have been receiving.
Lachica also said that they are seeking to receive higher pensions for the veterans in the Philippines, better health care and war injuries compensation from the Veterans Administration (VA), and the issuance of the Veteran's ID card for Medical and VA burial benefits.

"We are gaining momentum in passing these bills," Lachica said. "We are hopeful that this administration will pass the bills and that the succeeding one will continue to support our efforts."
___________________
MALAYA Manila daily
www.malaya.com.ph
February 3, 2007
US House to hold hearing on veterans pension bill
BY JENNIE L. ILUSTRE
WASHINGTON - Rep. Bob Filner, Democrat from
California, will hold hearing on Feb. 15 on a bill
granting pension to Filipino World War II veterans
living in the US and in the Philippines, his
office said in reply to an email late Wednesday
(Thursday in Manila).
The bill is expected to pass in the
Democratic-dominated 110th US Congress. Filner is
the chairman of the committee on veterans affairs
and the bill's co-sponsor over the years. In the
senate, Sen. Daniel K. Inouye (D, Hawaii) re-filed
the bill as S. 57, The Filipino Veterans Equity
Act of 2007, when Congress opened Jan. 4.
But with the American Coalition for Filipino
Veterans (ACFV) and other groups, the National
Federation of Filipino American Associations
(NaFFAA) based in this US capital is not taking
any chances. It is holding a meeting Feb. 3
Saturday "to discuss the budget and staffing" of a
grassroots lobby group.
NaFFAA communications director Jon Melegrito said
in a phone interview on Feb. 1, "This is the
closest opportunity we have of passing the Equity
bill, and we are going for it this year" before
the 2008 presidential elections upstage all
issues.
The bill would benefit 5,000 US-based Filipino
American and green card-holder WWII veterans and
12,000 Filipino and Filipino American WWII
veterans living in the Philippines.
The House bipartisan bill is expected to be
re-introduced soon.
Both Filner and bill advocates are not mentioning
any appropriations figures.
"Trust me on this," Filner told veterans last
December.
"First we get the authorization, then we talk
about appropriations," said Melegrito.
Negotiations would cover the monthly amount, and
whether the rates would be the same for veterans
living in the US and the Philippines.
The bill amends Section 107 of Title 38 of the US
Code (Rescission Act of 1946).
When the Philippines was an American Commonwealth,
120,000 Filipinos heeded President Franklin D.
Roosevelt's military call. The Rescission Act
stopped pension and most other benefits.
Those with service-connected disability continued
to receive compensation and other benefits.
Since the late 1980s, the US Congress has restored
health and burial benefits for
nonservice-connected Filipino WW II veterans. It
has also equalized monthly disability compensation
with that enjoyed by Americans with the same
service, but only for Filipino service-connected
veterans living in the US.
In a phone interview from Los Angeles ,
California, Frank Arcebal, vice president for
membership of ACFV, a registered lobby group, said
that "in the spirit of partnership," his
organization would join the December-formed
steering committee's lobbying efforts on the
Equity bill.
NaFFAA and other groups are only lobbying for the
Equity bill.
ACFV is simultaneously pushing for family
reunification legislation. "There's no controversy
with ACFV here, we are talking of unified
strategy," said Melegrito.
"The Equity bill will be taken up in the veterans
committee, and reunification is an immigration
bill that will go to the judiciary committee,"
Arcebal said.
---------------fair use ----------------------
MALAYA Manila news daily Nov. 25, 2006

Lame duck US Congress may pass veterans' family visa bill

BY JENNIE L. ILUSTRE

WASHINGTON, D.C. - Before the US 109th Congress adjourns on Dec. 16, community advocates here expressed optimism it will pass a bill to fast-track the US entry of all children and below-21 grandchildren of Filipino American World War II veterans.

Sen. Daniel K. Akaka and Sen. Daniel K. Inouye, Democrats from Hawaii, re-filed this proposal as a stand-alone bill as S. 4070 last Nov. 16, according to Eric Lachica, executive director of the American Coalition for Filipino Veterans based here.

Last May, Akaka's family reunification proposal was incorporated as an amendment to a popular bill to give it a better chance of passage, but it was
omitted during the floor vote [ in the House ].

Lachica said the strategy this time is to lobby senators when Congress comes back for a lame duck Dec. 5 to 16 session to vote for "the popular, without any opposition bill...as a rider to any of the remaining nine" must-pass spending bills.
The bill, whose text became available this week, seeks "to exempt children of certain Filipino World War II veterans from the numerical limitations on immigrant visas."

If the bill passes, the adult children, and by extension their own minor children, will go to the head of the line and gain entry to the US within next year. Those with pending visa applications that have not been acted on for years can enter
the US within months.

In case the bill does not make it, veterans and their supporters are optimistic of their chances in the 110th US Congress next year. Democrats, who gained majority in both the House and the senate in the Nov. 7 midterm elections, will take over on Jan. 4.

Akaka, and Rep. Bob Filner (D-CA), who are original sponsors or co-sponsors of active Filipino WWII bills, will become chairmen of the veterans committee in their respective chambers.
They can re-introduce the bills as original sponsor, schedule hearings and move their measures to a floor vote.

Lachica said he, coalition national president Patrick Ganio, veterans and community advocates would "go all-out" in their lobbying to get the
bill passed next month.

The bill has bi-partisan sponsors, among them Akaka, Inouye, Sen. Barbara Boxer and Sen. Dianne Feinstein, both Democrats from California, Sen. Arlen Specter (Republican from Pennsylvania), Sen. George Allen (R-Virginia) Sen. Lisa Murkowski [R-ALASKA], and Sen. John Ensign (R-Nevada).

Last month, the coalition also persuaded popular California Gov. Arnold Schwarzenegger (R), to write a letter to President George W. Bush and to Rep. James SenseNbrenner (R-Wisconsin), chair of the judiciary committee, to support the family reunification bill.

Stepped-up lobbying could also result from the presence of California veterans in the capital to attend a veterans summit. The Dec. 6 and 7 summit is co-sponsored by Ambassador Willy Gaa and the new National Federation of Filipino American Associations (NaFFAA) national chair, Alma Kerns.

Last Oct. 17, the House subcommittee of immigration's Republican staff told former NaFFAA national chair Loida Lewis, national capital region chair Bing Branigin, and Lachica they would recommend approval of the bill to SenseNbrenner.
------------fair use--------------

Filipino Vets Thank Schwarzenegger for Equity Bill Support, Appeal for Family Reunification

SACRAMENTO (June 13, 2006) - Filipino American WWII veterans recently met and thanked California Governor Arnold Schwarzenegger for his help during their photo opportunity event at his Capitol office.

More than seventy veterans and community leaders from several cities showed their appreciation by presenting him with a "Barong Tagalog" formal shirt and a historical WWII poster of "The Fighting Filipinos."

Upon the request of the California leaders of the American Coalition for Filipino Veterans, Schwarzenegger had wrote President Bush on December 8, 2005 urging support for their bill, the Filipino Veterans Equity Act (S. 146 - H.R. 4574) that would restore their U.S. veterans status and provide VA disability pensions.

After the photo opportunity, the leaders of five city delegations delivered their letter appealing to Schwarzenegger to assist them in persuading Speaker of the House of Representatives Dennis Hastert and the House Judiciary Committee chairman James Sensenbrenner to support their Filipino Veterans Family Reunification (FVFR) amendment in the Comprehensive Immigration Reform Act (S. 2611) that recently passed in the U.S. Senate and now is in conference negotiations in the House.

"We have been waiting for our children for more than a decade," said Jose Nuega, president of the Sacramento Filipino American Veterans Association.
"We need them with us before we die," he added.
CA Gov. Schwarzenegger with Sacramento vets.